Most institutional forecasters expect the global economy to lose momentum going forward. This is bound to generate headwinds for India's growth prospects as well. However, the relationship between the global economy and India's growth prospects is far from simple. Here are four charts that explain this argument in detail.
Exports are slowing, but so are imports
The latest trade data, which was released on February 15, underlines this fact. While exports fell from $38 billion to $33 billion between December 2022 and January 2023, imports have fallen from $60.2 billion to $50.7 billion, bringing the trade deficit down from $22 billion to $17 billion. While a detailed analysis of the reasons for decline in imports must wait for commodity wise value and volume data, one probable reason could be a decline in commodity prices in international markets. To be sure, a loss of growth momentum in the Indian economy could also be a reason for slowing imports. Because the net impact of trade on the domestic economic activity depends on both imports and exports, a drop in the import bill due to fall in commodity prices especially that of crude oil, acts as an in-built buffer for the Indian economy.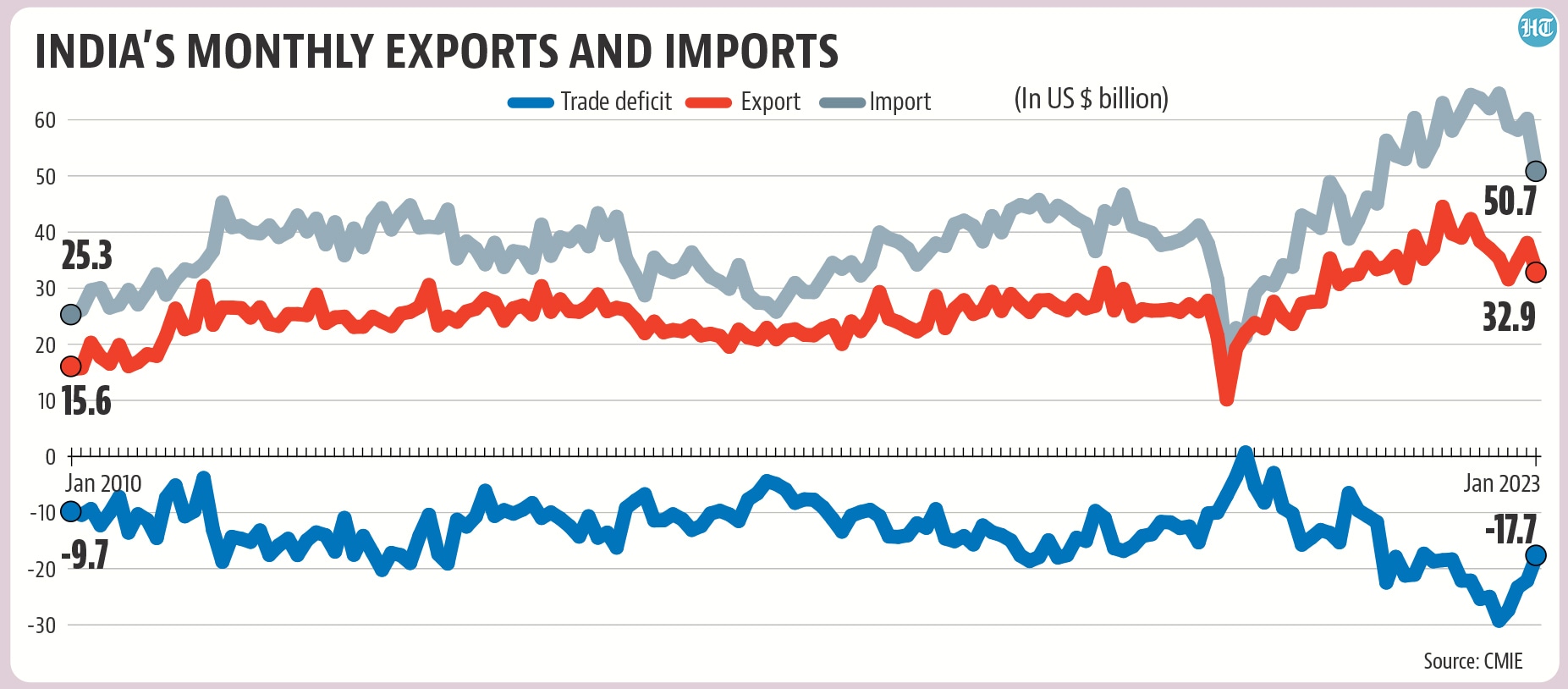 There is also the geographical impact of the slowdown
The intensity of a global slowdown's impact on the Indian economy will depend on its magnitude in countries with which India has a more important export relationship. This is where the slowdown is particularly bad news for India, as the US and Euro-zone economies are the most likely to be affected by the slowdown and they are important export markets, as far as India is concerned. A CRISIL report released on February 15, underlines this point. "More recent commentary on global growth prospects turned a tad positive — for instance, the International Monetary Fund's January 2023 World Economic Outlook — but the advanced economies are projected to slow down this year", the report notes. "The US and European Union (EU) are two of the largest destinations, accounting for 18% and 15.4%, respectively, of India's merchandise exports in fiscal 2022", the report adds. Given the importance of these countries in India's exports, there is bound to be a significant impact on export earnings for the Indian economy. In fact, such as process is already underway. "Indeed, exports to these two regions have been on a declining trend since July 2022, barring a slight uptick in November and December (see right chart above), which could be a reflection of festive demand towards the year end", the report notes.

The distributional impact of an export slowdown
There is another aspect to the impact of export driven slowdown in the Indian economy, given the difference in labour intensity of export items. The CRISIL report notes that India's labour intensive exports could be particularly badly hit given the centrality of US and EU markets for these commodities. "The EU accounts for 46.2% and 42.7% of India's leather and footwear exports, respectively. Likewise, the US commands a large share in items such as 'other made up of textiles, rags', pharmaceutical products and marine products", the report notes. "It is noteworthy that labour-intensive categories such as leather articles, footwear, and textiles have the highest export dependence on these advanced economies", it adds. This is bad news for domestic demand in the economy, because it could adversely affect mass incomes in an already slowing manufacturing sector. To be sure, there are factors that could soften this adverse impact as well.
"That said, exports from resilient sectors such as electrical machinery and pharmaceuticals could partially offset the impact in terms of balance of payments. We also draw some solace as import intensity of some of India's key exports such as petroleum products, gems and jewellery and pharmaceuticals is relatively large , indicating a slowdown in the exports of these items implies some softening in imports as well", the report adds.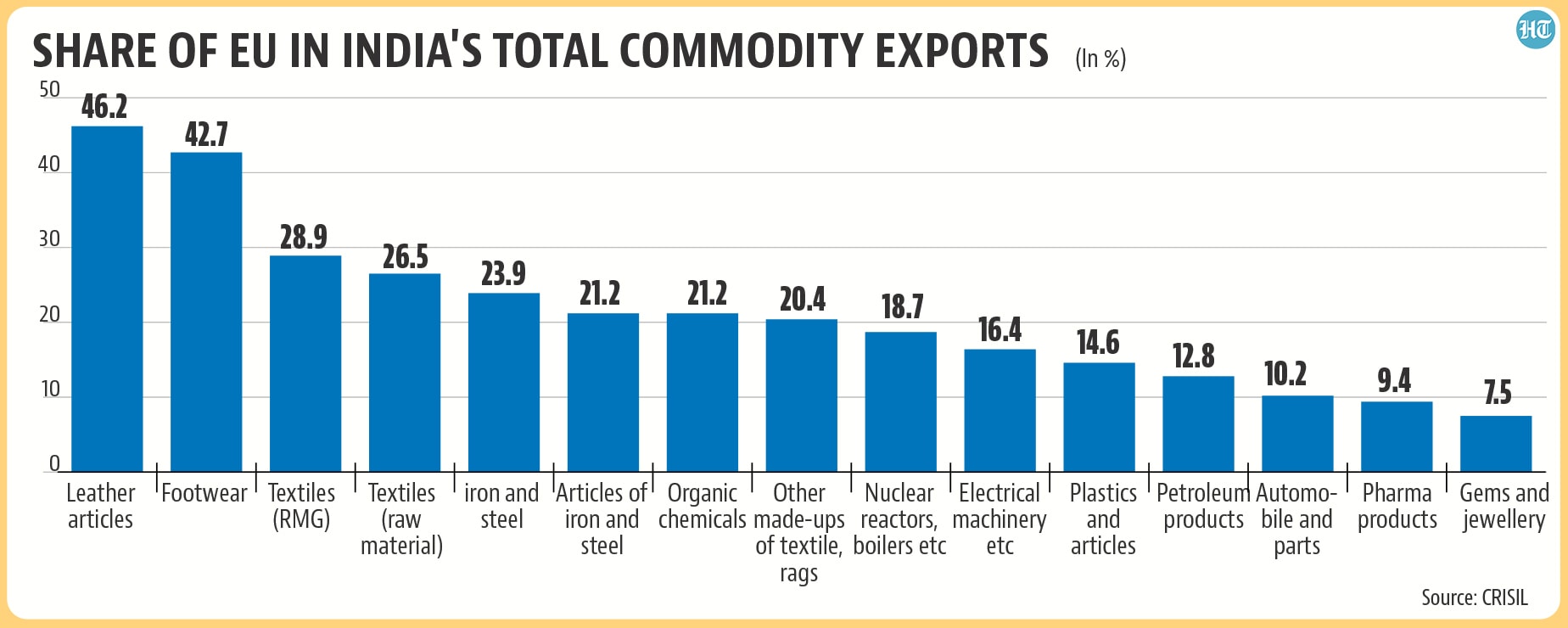 Get Latest India Newsalong with Latest Newsand Top Headlinesfrom India and around the world. Unlock HT Premium with upto 67% Discount Subscribe Now to continue reading Start 14 Days Free Trial Already Subscribed? Sign In
SHARE THIS ARTICLE ON Topics indian economy indian economy